---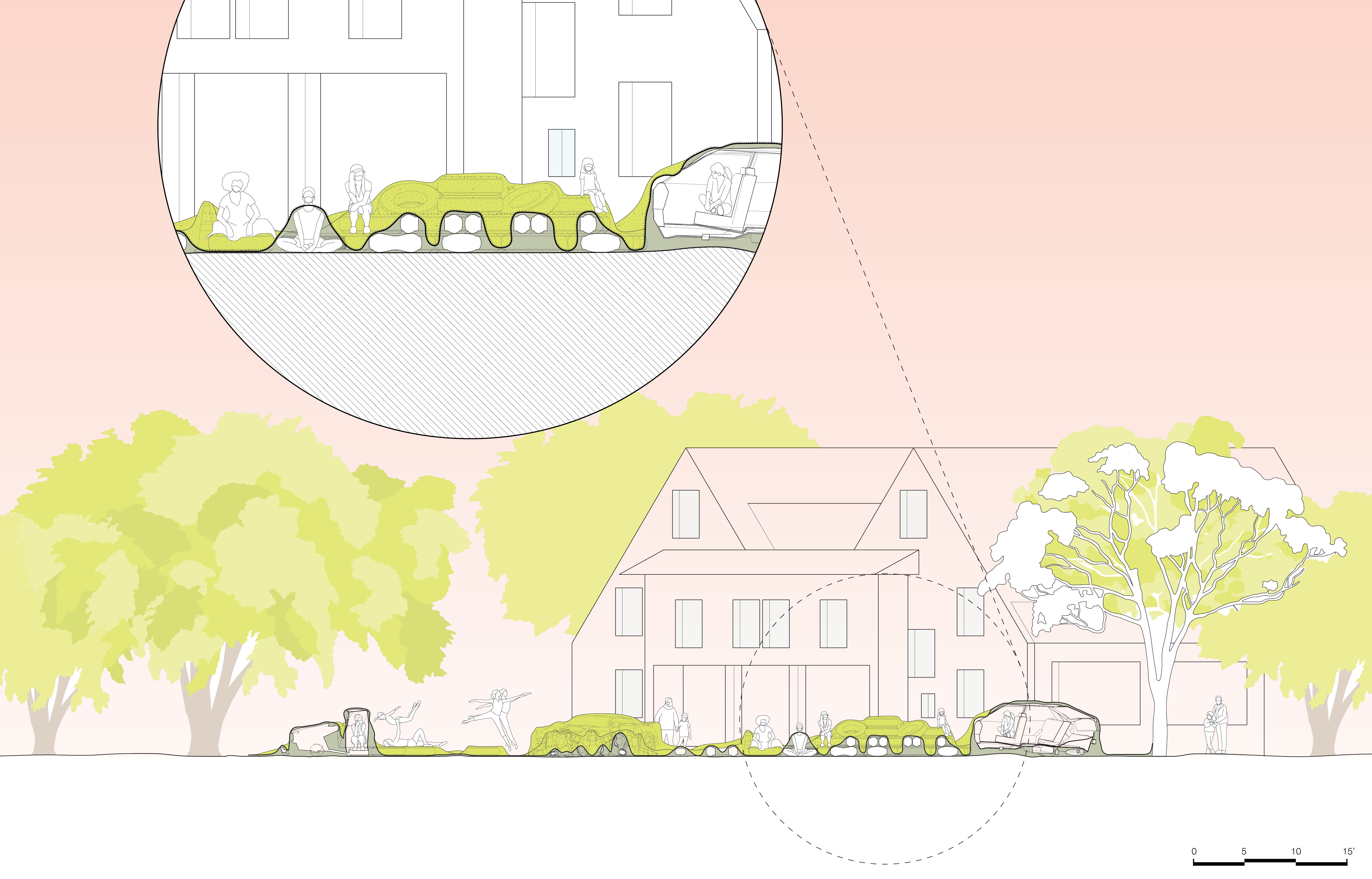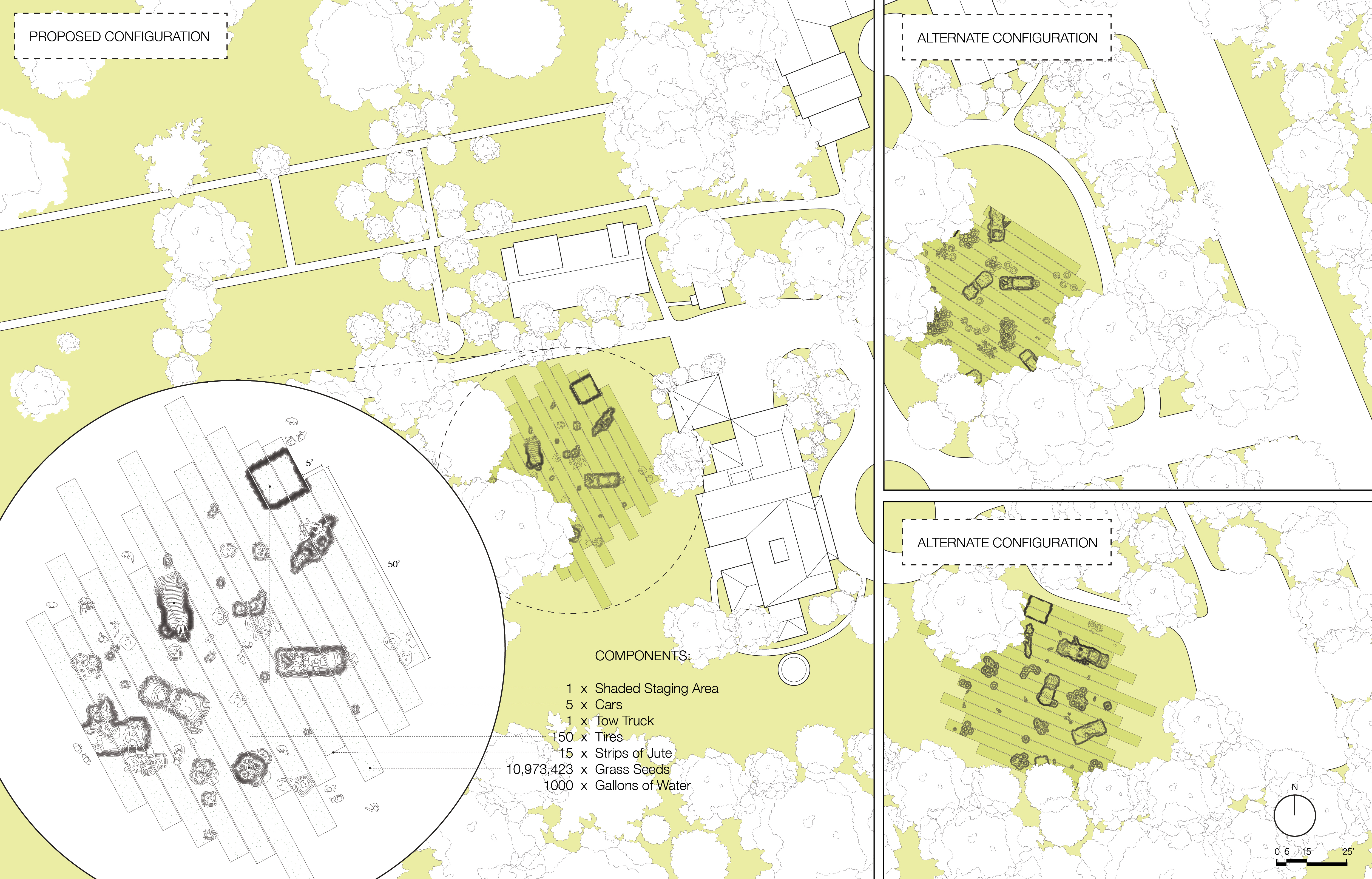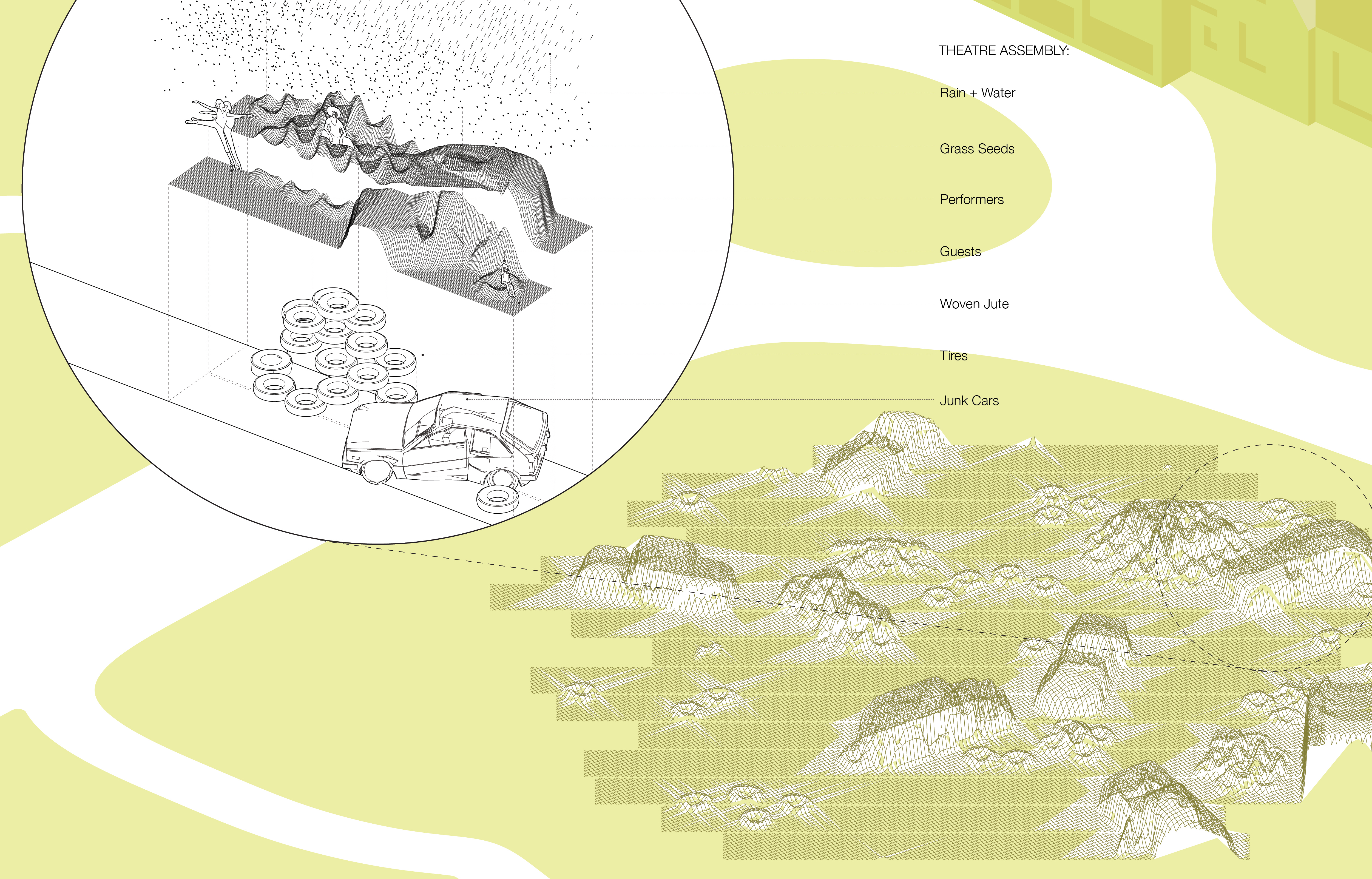 DATE: 2021


Collaboration with Sarah Aziz

Awarded 2021 Ragdale Ring Competition Honorable Mention by the Ragdale Foundation



Going Nowhere Fast is a proposal for the 2021 Ragdale Ring competition that responds to the questions of our current moment with both requisite urgency and much-needed optimism. This iteration of Howard Van Doren Shaw's theatre establishes a 'new ground' - an inhabitable and reconfigurable grassy terrain for discovery, play, and performance - made from six scrap cars and 1500' of seeded jute strips. A cursory glance may lead the viewer to believe that this is an Edenic landscape; upon closer inspection, scrap cars, scrap tires, relics from Lake Forest, IL's automobile culture reveal themselves, complicating the relationship between the user and the used. The mobility waste is organized into a stable configuration and tenderly draped in rolls of jute fabric that grow fresh grass from seeds embedded in the warps and wefts. This new surface - that performs as both seating and stage - is easy to dis-assemble and re-agglutinate and is at once mobile and stationary, shaded and solar-exposed, hidden-in-plain-sight and calling out for attention.

In order to assemble the temporary junkyard on the Ragdale campus, six scrap cars, 150+ tires, and 100+ traffic cones are trucked and towed to Lake Forest. Approximately ten rolls of 5'x150' biodegradable jute fabric will blanket the automobile arrangements and be meticulously covered in germinated grass seeds. When first installed, the project will appear as a series of small landscape deformations in the lush Ragdale grounds; over time, the jute will transform into a bucolic carscape that grows softer and becomes more visible the more people interact with it.

By orchestrating an invasion of the Ragdale lawn, the project pays homage to Shaw's subversive creativity. In her book Ragdale: A History and Guide (co-written with Susan Moon), Shaw's granddaughter and Ragdale founder Alice Hayes describes the playful design ethos of Shaw, pointing out that: "to him...the raggedy look of the shrubbery, the low hanging branches of trees, and the invasion of the lawn by violets were all deliberate effects. He was aiming for informal country surroundings for his house, not a well-groomed estate." The physical and intellectual terrain of Going Nowhere Fast is built on a foundation of indeterminacy, invasion, and informality that revels in the tension between the raggedy and the pristine, and the intentional and serendipitous.

Summer programming for Going Nowhere Fast stage puts performing arts in dialogue with the behavioral legacies of adventure playgrounds. For performers, all the junkyard's a stage, and the transition from auditorium to stage is profoundly blurred: poetry atop a fender; ballet around tires; and acrobatics around an automobile. The spaces of order and disorder welcome interpretation, transgression, and play on the part of each set of performers. For Ragdale attendees, the carscape mounds, lumps, and pockets encourage bodies to engage and interface with the theatre in previously unbecoming ways: flung onto, tucked under, peeking out. Impulses to misuse and even misbehave in the theatre are celebrated, a bodily catharsis after a year of great de-stabilization. Performers, organizers, and attendees alike are reminded to observe the unhurried mobility of the non-human species living among us, imploring us to, please, slow down and enjoy the show.