---
01
SUPREME PRIVACY
An investigation into the spatial and architectural legacies of a series of seven landmark Supreme Court cases, beginning with Griswold v. Connecticut (1965) and ending with Dobbs v. Jackson Women's Health Organization (2022).
Read more
---
02
DOLLAR GENTLE CYCLE
A pop-up exhibition that gently cycles the resources of UW-Milwaukee's School of Architecture through Dollar General Corporation in a vacant retail space on Milwaukee's Historic Mitchell Street.
Read more
2022

EXH
RES

---
2023

DES

---

2017-2020

EXH
RES


---
05
BODIES WE BUILT

In Chicago, a city aware but often indifferent to the mortality of its citizens, the institutional machine for the processing of dead bodies can be found at the Cook County Medical Examiner's Office - the city morgue.
Read more
---
06
MONO POLY DOLLAR

Nearly 1 in 3 new stores opening in the US is a Dollar General. The pandemic-fueled economic downturn coupled with the company's retail innovations has resulted in an unprecedented proliferation of the dollar store economy.
Read more
On-going

DES
RES
TEA


---
07
EAT WHERE YOU SH*T
As the Potomac River and Chesapeake Bay region sink from glacial rebound, waters rise from global glacial melt, and the Atlantic Gulf Stream weakens, the site of the American White House returns to its marshy, waterlogged origins: the swamp reclaims the South Lawn.
Read more
2022

COM
DES


---
08
MISFITS : OUTFITTING

University of Wisconsin-Milwaukee students take a critical eye to multivalent and on-going relationship-forming interactions between human bodies and the environments and objects that surround them.
Read more
2021

RES
TEA

---
09
NO HOLLYWOOD IN THE MIDWEST
After decades of controversial pro- and anti-preservation efforts, the State of Illinois decides to maintain ownership of the Thompson Center property and form a Midwest entertainment conglomerate and film complex: Thompsonwood.
Read more
---
10
GOING NOWHERE FAST

All the junkyard's a stage: poetry atop a fender; ballet around tires; and acrobatics around an automobile. The spaces of order and disorder welcome interpretation, transgression, and play on the part of each set of performers.
Read more
2021

COM
DES

---
11
SAVE OUR SOILS
To the detriment of climate activism, permafrost has not made its way into the public imagination as an entity in need of protection. A new publicity campaign is proposed for Yakutsk, Russia, the largest city in the world built on permafrost.
Read more
2017-2020

EXH
RES
---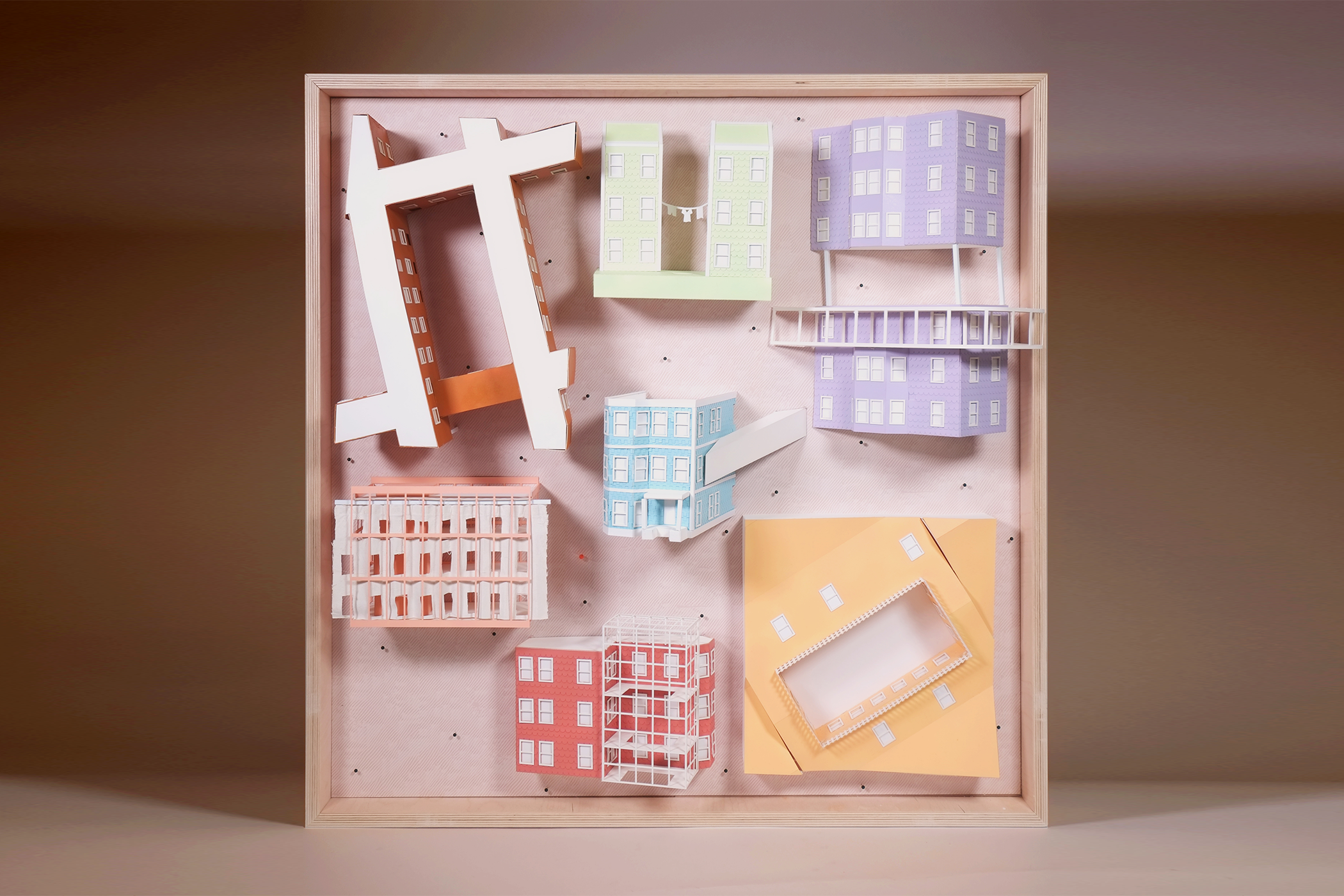 12
ORDINARY WORMHOLES
Extra-ordinary triple decker urbanism in Boston finds its footing through the anomalous window. Seven new typologies of triple decker neighborhoods enable residents to choose what amenities best suit their needs.
Read more
---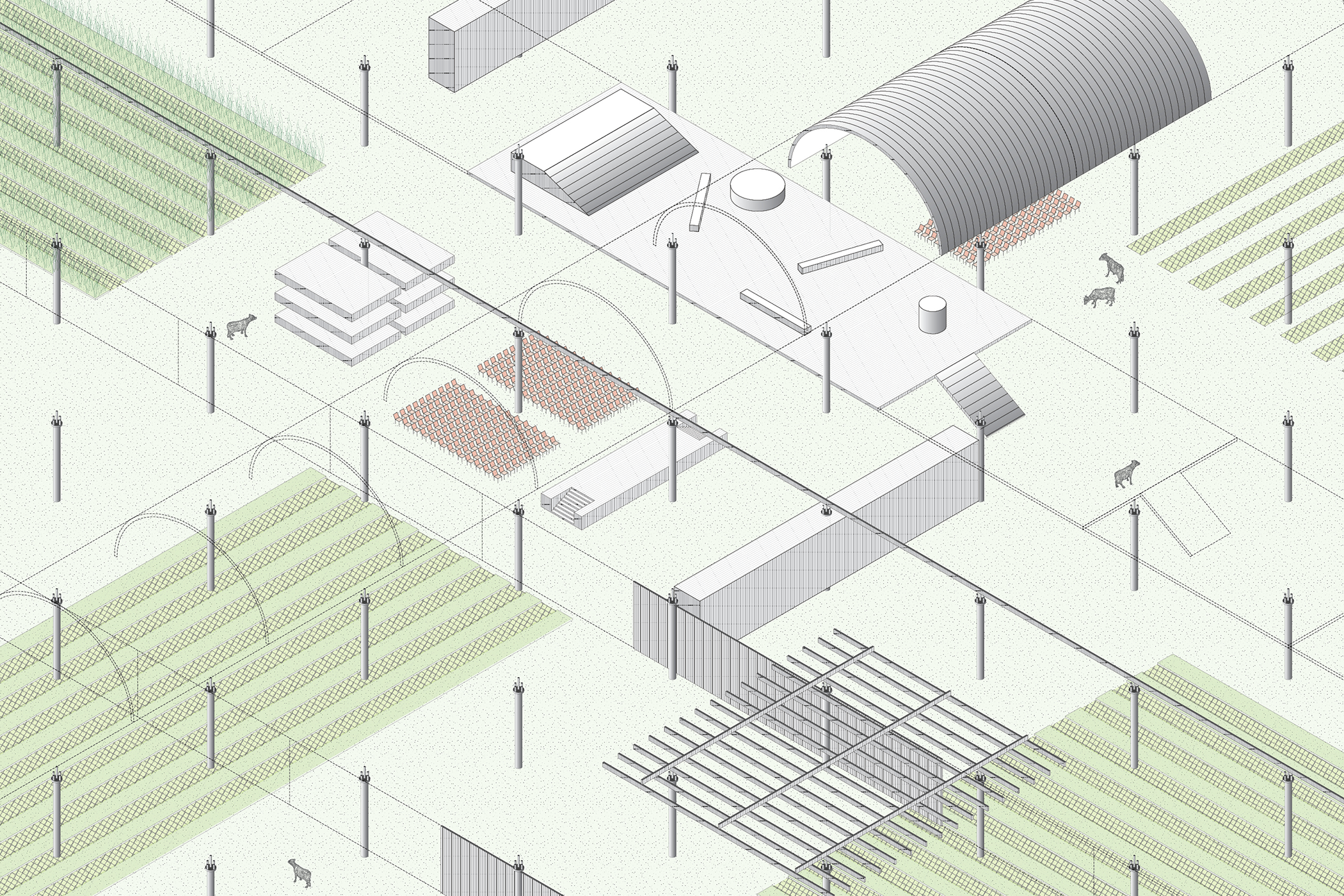 ---
14
GENDERED GENERIC
These spaces are real but they are not unique. Each space is represented through a pair of drawings that establishes an uncanny separation between an architectural stage set and the bodies and objects that inhabit it.
Read more
2017

EXH
RES
---
15 NEUFERT'S NIGHTMARE

The history of architectural manuals for bodily accommodation reveals architecture's canonical inability to indulge any excess of identity or physicality. Architecture's systems of governance and commerce consume bodies at their most acquiescent, standardized, and behvaing.
Coming soon.
---
16 MIDWEST STACK EXCHANGE
The Midwest Stack Exchange brings together the 44 schools of architecture in the Midwest to establish a system for sharing resources, unedited dialogues, and new region-specific pedagogies, through an annual 4200-mile traveling architectural colloquium.
Collaboration with Sarah Aziz.
Coming soon.